International Database for Barley Genes and Barley Genetic Stocks
BGS 5, Chlorina seedling 8, fch8
Locus name:
Chlorina seedling 8
Previous nomenclature and gene symbolization:
Chlorina seedling 8 = f8 (4).
Chlorina seedling-f8 = clo-f8f8 (6).
Inheritance:
Monofactorial recessive (4).
Located in chromosome 7HS (2, 4, 5); fch8.j is about 13.0 cM distal from the nud1 (naked caryopsis 1) locus (2, 4); fch8.j is about 2.7 cM distal from the msg10 (male sterile genetic 10) locus (2); fch8.j is associated with SNP markers 1_1014 to 2_0445 (positions 80.65 to 121.90 cM) in 7H bins 06 to 07 of the Bowman backcrossed-derived line BW105 (1), likely in 7H bin 06.
Description:
Seedlings have a yellow-green color and plants retain a chlorina (yellow green) phenotype until ripening (2). Plants of Bowman backcross-derived line BW105 were viable in the field, but heading was delayed 2 to 10 days across environments. Plant height of BW105 varied from slight taller than Bowman to 3/3 of Bowman height and awns were slightly shorter. Spikes of BW105 had 2 to 3 more kernels than those of Bowman, seed weights were approximately 10% lower. Grain yields were 1/2 to 3/4 of those of Bowman (3).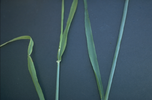 Origin of mutant:
A spontaneous mutant in Comfort (CIho 4578) (4).
Mutational events:
fch8.j (GSHO 40, Comfort No II) in Comfort (CIho 4578) (4).
Mutant used for description and seed stocks:
fch8.j (GSHO 40) in Comfort; fch8.j in Bowman (PI 483237)*8 (GSHO 1829, BW364, NGB 20603).
References:
1. Druka, A., J. Franckowiak, U. Lundqvist, N. Bonar, J. Alexander, K. Houston, S. Radovic, F. Shahinnia, V. Vendramin, M. Morgante, N. Stein, and R. Waugh. 2011. Genetic dissection of barley morphology and development. Plant Physiol. 155:617-627.
2. Eslick, R.F. 1976. Approximate position of the chlorina mutants f4f4 and f8f8 on chromosome 1. Barley Genet. Newsl. 6:10-13
3. Franckowiak, J.D. (Unpublished).
4. Robertson, D.W. 1969. Linkage studies with five naturally occurring chlorophyll mutations in barley (Hordeum species). Can. J. Genet. Cytol. 9:321-326.
5. Shahla, A., and T. Tsuchiya. 1987. Cytogenetic studies in barley chromosome 1 by means of telotrisomic, acrotrisomic and conventional analysis. Theor. Appl. Genet. 75:5-12.
6. Simpson, D.J., O. Machold, G. Høyer-Hansen, and D. von Wettstein. 1985. Chlorina mutants of barley (Hordeum vulgare L.). Carlsberg Res. Commun. 50:223-238.
Prepared:
T. Tsuchiya and T.E. Haus. 1971. Barley Genet. Newsl. 1:108.
Revised:
T. Tsuchiya. 1980. Barley Genet. Newsl. 10:102.
J.D. Franckowiak and U. Lundqvist. 1997. Barley Genet. Newsl. 26:48.
J.D. Franckowiak. 2011. Barley Genet. Newsl. 41:62.